AproSports is more than a usual fitness gym! We support you with short, individual and intensive workouts to reduce back pain, for losing weight and to make you fit!
More than recommended. At AproSports you are just right, if you have little time, but still want to keep fit – without running into an overcrowded fitness centre. In just 20 minutes you get a crispy strength training, or improve your stamina on the cross trainer.
Try us out with a non-binding test training:
call +4930 20 62 96 30, or via the contact form.
book trial
book trial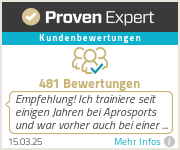 EMS training & personal training by AproSports 2x in Berlin: