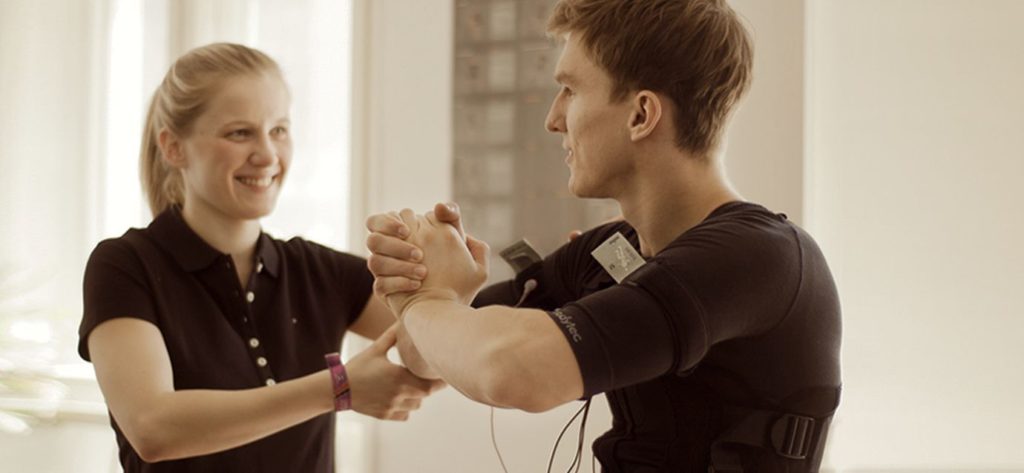 EMS training originated from the therapeutic sector in 2007 and is more often offered in EMS studios. Since then, the training has developed continuously and gave rise to an increase of popularity, because of its training achievements.
Where can you find EMS training?
EMS TRAINING IS PRIMARILY OFFERED IN MICRO-STUDIOS. THERE A SEVERAL STUDIOS WHICH WORK UNDER THE FRANCHISE PRICIPLE (FITBOX,BODYSTREET ETC.) AND OWNER-MANAGED STUDIOS LIKE APORSPORT. BOTH HAVE THERE BENEFITS AND WEAKNESSES. HOWEVER IT IS IMPORTANT THAT THE TRAINING IS SUPERVISED BY A WELL SKILLED TRAINER.
HOW MUCH DOES EMS TRAINING COST?
THE COSTS OF EMS TRAINING ARE BETWEEN 18,- AND 50,- EUROS PER APPOINTMENT. THE PRICES DEPEND ON THE LOCATION OF THE STUDIO, THE QUALIFICATION OF THE TRAINER, THE LENGTH OF THE MEMBERSHIP, AND THE TRAINING'S FREQUENCY (1 OR 2 TIMES PER WEEK).
WHICH TYPE OF EMS EQUIPMENT IS USED?
THE MANUFACTURER "MIHA-BODYTECH" IS MOST COMMONLY USED. AT THIS SYSTEM YOU ARE CONNECTED VIA A CABLE TO THE ACTUAL CONTROL UNIT.
OVER THE LAST YEARS, WIRELESS SYSTEMS FLOAT THE MARKET. THESE SYSTEMS ALLOW A LARGER VARIETY OF EXERCISES AND A GREAT FLEXIBILITY ON WHERE YOU TRAIN. THE BEST KNOWN EXPONENTS ARE "EASY-MOTION SKIN" AND "VISIONBODY".